Back in February 2013 I started teaching my Raspberry Pi 101 class. After the first class I think I had Pi on the brain, I was scheduled for a quick weekend trip out of town with my girlfriend, and she was due to leave her two cats behind. She said that she was going to leave a large bowl of cat food out, and with that I suggested that I build an automated cat feeder for them.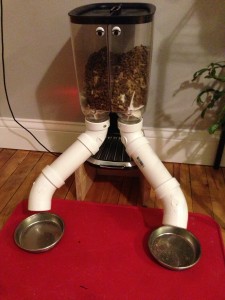 Ya know, so the cats don't over eat, and maybe have a mixture of food, and it's super cool! (Did I mention that it's cool!?) So… five days before leaving town, I purchased the food hopper, and very quickly ran out of time to complete the project before leaving on vacation. So plan B it was, a large bowl of cat food, and water.
However, I did stick with my original plan, and saw the build to completion well before my next trip out of town. In this blog post, I'll list out the step-by-step (for the most part) process to building your very own Wifi Enabled Raspberry Pi Powered Cat/Human Feeder.